Guideline Hourly Rates 2021: CJC Recommends Modest Increase
The Civil Justice Council (CJC) has recommended a modest increase to the current guideline hourly rates (GHR) for Solicitors in England and Wales. The Guideline Hourly Rates Working Group Report For Consultation, has stated that increases in hourly rates should range from 7% to 35%. It has also recommended that the highest levels of increase should be awarded to those carrying out heavyweight commercial work as opposed to the work carried out by city law firms.
Guideline Hourly Rates 2021: Current Rates
The current guideline hourly rates 2021 have remained the same since 2010. The current rates claimed by Solicitors and fee earners are split into twenty categories as shown in the table below.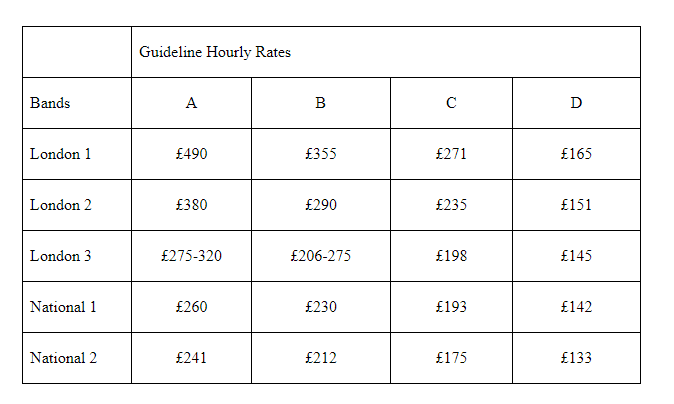 As the guideline hourly rates 2021 have not increased since 2010, many Solicitor, Costs Lawyers and other legal professionals believe that they are much lower than they should be and that there is urgent need for an update. It has been argued that the current rates are unreasonable and no longer fit to apply due to the rate of inflation over the past ten years, which amounts to in excess of 25%. 
In the recent case of PLK & Ors (Court of Protection Costs) [2020] EWHC B28, Master Whalan of the Senior Courts Costs Office (SCCO) allowed for a 20% increase in the Court of Protection case. He commented on the need for an update on guideline hourly rates and advised Costs Judges to allow some flexibility when assessing costs at detailed assessment.
In November 2020, in the case of Cohen v Fine & Ors , Judge Hodge added to the discussion on guideline hourly rates by stating " the guideline hourly rates should be the subject of, at least, an increase that takes due account of inflation."
Guideline Hourly Rates 2021: Plans to Raise the Rate
Due to the obvious requirement for an increase to Solicitor's guideline hourly rates, the Master of the Rolls has formed a Working Group to review the current guideline rates and prepare a draft report which opened for consultation on 8 January 2021 and will remain open until 31 March 2021. The working group is made up Costs Judges, Circuit Judges, District Judges, Barristers, as well as Commercial and Civil Litigation Solicitors.
Evidence was obtained for the report between September 2020 and December 2020. This evidence consisted of what is allowed in detailed assessment by :
Judges in the Business and Property Courts
SCCO Costs Judges and authorised Court Officers
Regional Costs Judges
Some of the main proposed changes within the report include:
Hourly rate increases, ranging between 7% and 35%
Changing the rates for London 1 and London 2 to reflect the work which has been done, as opposed to whether they were in the City. This is due to the "vast range of work of varying complexity and size" which is carried out by those firms in the City. London 1 would therefore consist of firms carrying out corporate and commercial work and London 2 would consist of Solicitors carrying out all other types of work.
Merging groups National 2 and National 3 into one single band.
It is stated in the report that:
"The working group is of the opinion that these recommended GHRs will give to the inexperienced Judge a better steer, by providing a simplified scheme to assist such Judges without them being a substitute for the proper exercise for judicial discretion."
It has also been suggested that the Civil Procedure Rule Committee should think about making a small, but significant change to the summary assessment form N260. This proposed change will add the requirement for the fee earner to specify the location of where the work is being carried out. The reason for this proposed change is to stop some firms from charging their Central London office rates when the work had actually been carried out in a regional office.
How Can ARC Costs Assist?
ARC Costs are specialist Costs Draftsmen and Costs Lawyers who can assist in the recovery of your legal costs. We can assist in costs budgeting, preparing Bills of Costs and negotiating costs with the other party to ensure maximum recovery of your costs. We can also represent you at detailed assessment and advance arguments concerning the hourly rates claimed, in order to justify enhanced rates if the case reasonably warrants the same. We often recover hourly rates in excess of the Guideline Hourly Rates 2021 at Detailed Assessment on Multi Track matters. If you require our assistance, either as a receiving or paying party, please do not hesitate to contact one of our costs experts on 01204 397302, or email us at info@arccosts.co.uk. 
Request Your Free Quotation
Contact us today for your free, no obligation quotation. Our team are on hand to help.