Guideline Hourly Rates 2022: New Rates from October 2021
2010 Guideline Hourly Rates
The current Guideline Hourly Rates (GHR) were last set in 2010 and have been in force since then. It has often been argued in the interim years, via common law decisions, that these rates need to be updated to reflect significant inflation, with the case of Ohpen Operations UK Ltd v Invesco Fund Managers Ltd [2019] EWHC 2504 (TCC) kick-starting a review following the statement that:
"It is unsatisfactory that the guideline rates are based on rates fixed in 2010 and reviewed in 2014, as they are not helpful in determining reasonable rates in 2019. The guideline rates are significantly lower than the current hourly rates in many London City Solicitors, as used by both parties in this case". Further updated guidelines would be very welcome".
Comments were also made on the current rates in November 2020 in the case of Cohen v Fine & Ors where Judge Hodge stated "the guideline hourly rates should be the subject of, at least, an increase that takes due account of inflation."
Guideline Hourly Rates 2022: Proposed Increases
Earlier in 2021, the Civil Justice Council working group proposed increases to the current guideline hourly rates of between 14% and 20% (based on the grade of the fee earner) compared to the Guideline Hourly Rates of 2010. Whilst this proposal was set in an interim report, in July 2021, the Civil Justice Council recommended that these proposals be implemented in full in their final report.
New Rates from October 2021
The final report published is a lengthy and detailed analysis of the current guideline hourly rates. The Civil Justice Council recommendations are addressed to the Head of Civil Justice/ Master of the Rolls and to the Rule Committee.
The Master of the Rolls has accepted the recommendations and the increased guideline hourly rates are set to come into force from October 2021.
The final report has concluded the following:
"though capable of some valid criticism, [the interim report] is the best available in all the circumstances and is a sufficiently sound basis on which to make recommendations."
With these increases and recommendations, a lot of the legacy cases, such as those for noise induced hearing loss with low value will be impacted. Whilst it is likely that the increased guideline hourly rates will increase financial liabilities for insurers, the working group could not take into account these factors, stating:
"IRLA noted that the increases would have a substantial impact upon them, for example where there are Conditional Fee Agreements in mesothelioma claims and in their bulk legacy claims, primarily noise-induced hearing loss with a low value but exempted from Fixed Recoverable Costs. The working group is not able to take account of such factors. Legacy claims, their funding and lack of inclusion in Fixed Recoverable Costs, have been the subject of specific policy decisions which cannot affect recommendations on GHRs."
Whilst these recommendations are not beneficial to the paying party, they are welcomed by many of the Solicitors acting for Claimants who are often the receiving party in claims as it will assist in ensuring higher recoverability of their costs to cover their increasing overheads.
The new guideline hourly rates are shown below: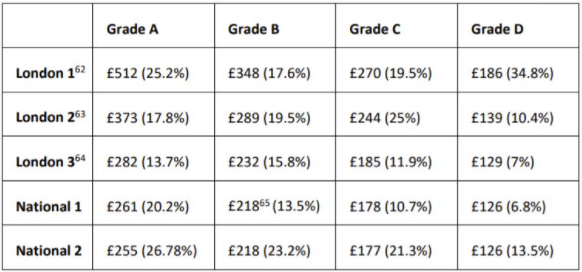 How Can ARC Costs Assist?
ARC Costs, as well as preparing documents, such as Bills of Costs and Costs Budgets, often deal with disputes between parties in relation to the hourly rates being charged as part of any costs recovery. Please note that the revised Guideline Hourly Rates 2022 remain guidelines only. A number of factors can be taken into account to allow for a higher rate to be claimed in costs, such the expertise of a Solicitor and the complexity of the case.
The issues of the hourly rates claimed in costs can be dealt with through Points of Dispute and Replies, with oral submissions sometimes being required at summary assessment and detailed assessment where a decision on the reasonableness of the rates claimed will be made by the costs judge.
As independent costs experts, we regularly act for paying and receiving parties, concerning the recoverability of costs. To discuss your costs query further, please contact us on 01204 397302 or email on of the team at info@arccosts.co.uk. Alternatively, you may complete our online enquiry form and we will contact you to discuss your query further.
If you are paper based, all documentation/files of papers can be sent to our registered office at 4 Bark Street East, Bolton, BL1 2BQ.
Request Your Free Quotation
Contact us today for your free, no obligation quotation. Our team are on hand to help.